(Update:
Please also check out my Facebook page Japan Travel Tips on everything and anything you need to know about visiting Japan!
)
As promised I am doing a Tokyo post and since this is a fashion and beauty blog, I will focus on the beauty and shopping side of Tokyo. This post will be about shopping for fashion items. On shopping for skin care and cosmetics goodies, check out
Part II of my Tokyo Shopping & Beauty Tips post!
For more tips on shopping and beauty in Japan, check out my
Tutorial Section
!
First off I LOVE TOKYO! I have been to Tokyo 5 times in the past 6 years (crazy I know!). I can't say I'm an expert but after so many trips I do have some tips and some repeat-and-must-go places every time. So, issho ni iku yo! (let's go together)
Shopping
I guess no one can say Tokyo is NOT shopping heaven! Yes Tokyo is expensive but you can always find cheap great items IF you only where to find them! Plus even if they are a bit more expensive, it's well worth it as there are items you can only find in Tokyo. Overall for a beauty junkie, Tokyo has everything you want - make-up, skin care, clothes, accessories, anything you name it!
Place I recommended:
Takeshita Dori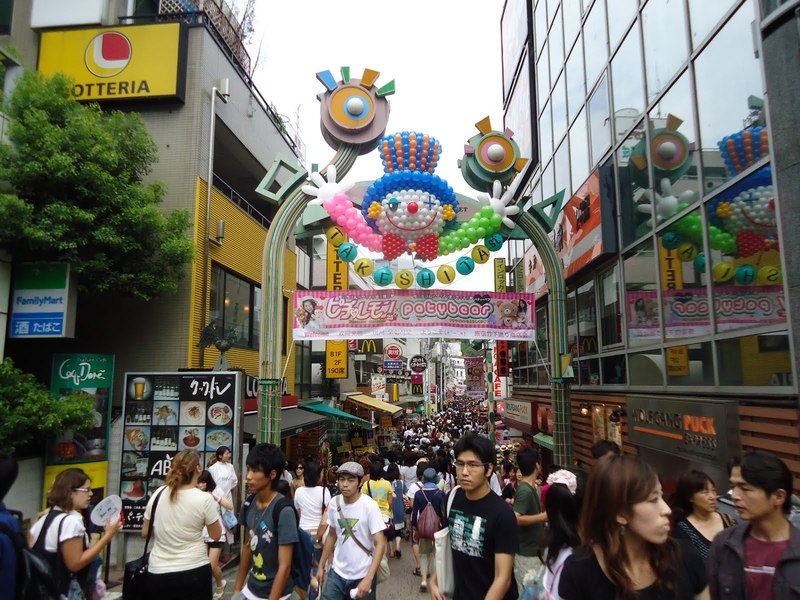 -
For everything cheap and chic, go to Takeshita Dori (i.e. Takeshita Street). It's the most fashionable place for young highschool girls. Here can you find anything from shoes, accessories, lingerie, clothes, cosmetics, dollar store, anything you name it!!
-
Directions: get off at Harajuku JR station and the street is right across. You can see a big sign that says
竹下通り
(i.e. Takeshita Dori) and it's a long crowded sloppy road
-
Tips: don't forget to try all the pancake stores at Takeshita Dori. There are few and they are all good! Plus remember, THIS PLACE IS SUPER CROWDED!
-
Mimika's favourite store:
Tutu Anna
&
Amo's Style
– Takeshita Dori is also famous for its lingerie, get the cutest lingerie/roomwear at great prices and good quality
Ginza
-
This is the 5th Avenue of Tokyo. Any luxury brand you name you can find them here with the latest style! Of course buying luxury brands in Japan is more expensive then elsewhere. However, if you want a one stop shop and you have the money to spend while in Tokyo, why not?
-
Directions: take the Tokyo Metro and get off at Ginza Station (easy!). Chuo-Dori is the street with most luxury brands
-
Tips: Part of Ginza on Sundays is "pedestrian paradise", meaning, the road is closed for pedestrians no cars can go through! Come on Sunday to enjoy the experience
-
Mimika's favourite store:
Burberry Blue Label
. This is the Japan Exclusive line of Burberry and they are only available in Japan. The styles are younger and honestly a lot pretty in my opinion. I visit this place very time!
Shibuya 109
-
If you are a Japanese fashion magazine junkie like me, you can find all the brands on the magazines at Shibuya 109! Shibuya is a mall that has many different stores focusing on local Japanese brands for girls in their late teens early twenties. To have a store at Shibuya 109 means you are a fashion and popular brand in Japan!
-
Direction: Take the JR/metro to Shibuya station. It's about 2 min walk away. You can't missed it because it's right across from a super mega huge all-direction crossing. There is also a huge Starbucks across.
-
Tips: Shibuya 109 is where the most fashionable Japanese girls go to! Even the sales associates are often seen by local Japanese girls as fashion icons. Go there to check out clothes AND the lates make-up and mix and match!
-
Mimika's favourite store:
Esperanza
at the basement is their discount store. The price is a lot cheaper than their regular store and it has a great selection of on sale shoes! The only thing is they don't have all the size. Good luck!
Lumine Est Shinjuku Store
-
This is a department store focuses on women's clothes, accessories, and cosmetics. Great selection of lovely brands at a relatively reasonable price. If you want to buy pieces that looks elegant and style you can only find in Japan, this is the place to be!
-
Direction: get off at the massive Shinjuku Station from either JR or any other metro that comes to this hub. Take the East Exit
-
Tips: Lumine has 3 sub-store at the Shinjuku location: Lumine 1, Lumine 2, and Lumine Est. I personally love Lumine Est best but check out the other stores too! They are just as great!
-
Mimika's favourite store: I shouldn't really say store since it's a department store with different brand counters. I personally love
Rope Picnic
, again reasonable prices, great quality pieces with lovely style, perfect for work/play
Shops at major JR/Metro Station
-
Yes there are tons of stores at the underground of Major JR/Metro station! They may not be the best style/quality but they definitely have good prices since these are local stores not for tourist! E.g. Shinjuku station, Tokyo station, Eibisu station
-
Directions: mm…I guess there is really no need for directions
-
Tips: mmm..same no tips really, I guess just make sure you look after your wallet and time! Sometimes it'll take me forever just to leave the station to get to where I am as I got so distracted!
-
Mimika's favourite store: A number of stores at Shinjuku station are great!
Outlet
-
There are few outlets close to Tokyo but the most popular and closest are Gotemba Premium Outlet and Mitsui Outlet Park
Makuhari, with Makuhari Outlet closer to Tokyo. Although Gotemba outlet is definitely bigger with more selection.
-
Directions: Both outlet are easily accessible by train, but Makuhari Outlet is definitely easier to get to. Check out their website for detailed directions
-
Tips: I visited Makuhari last time I was in Tokyo and not everything is that cheap! Honestly some of the items I can get them at the same price during store sale.